Back
Neck Pain
How is the neck structured?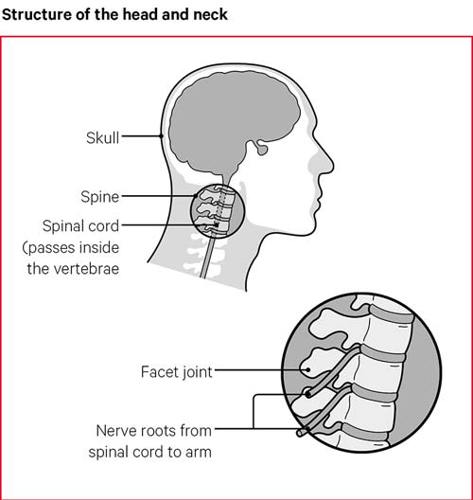 Your neck and back are made up of small bones called vertebrae. These are stacked on top of each other to form the spinal column.
The spinal column supports your head and protects the spinal cord. This is the main structure which links the network of nerves throughout your body. Messages travel along this network sending sensations, such as pain, to your brain.
The top seven bones in the spinal column form your neck, and these are called the cervical vertebrae. The bones are linked together by facet joints. These are small joints between your vertebrae that, together with your neck muscles, allow you to move your head in any direction.
Between the vertebrae are discs of cartilage. The discs act as shock absorbers and give the spine its flexibility. A slipped disc occurs when one of these discs slips slightly out of its natural position in the spine.SHARE THIS SECTION