Back
Gout
What is arthritis?
The word arthritis is used to describe pain, swelling and stiffness in a joint or joints. Arthritis isn't a single condition and there are several different types.
Around 10 million people in the UK are thought to have arthritis. It can affect people of all ages – even children and teenagers. Some forms of arthritis are more common in older people.
If you have pain in or around a joint or joints that doesn't go away after a few days, you should see a doctor. Finding out what's causing your pain is key to finding the right treatment and self-help options.
Although there's no cure for arthritis, treatments have improved greatly in recent years and, for many types of arthritis, particularly inflammatory arthritis, there's a clear benefit in starting treatment at an early stage.
It may be difficult to say what has caused your arthritis. There are several factors that can increase the risk of each type of arthritis. It could be that the genes you inherited from your parents or grandparents made you more likely to get arthritis.
Arthritis can make life tough by causing pain and making it harder to get about. The symptoms of arthritis can vary from week to week, and even from day to day. Many types, such as osteoarthritis and rheumatoid arthritis, are long-term conditions.
However, with the right treatment and approach you can manage your symptoms.
Whatever condition you have, remaining physically active will help you stay mobile and will be good for your general health.
What is a joint and how does it work?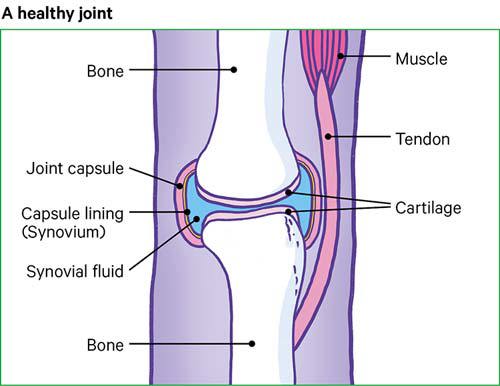 A joint is where two or more bones meet, such as in the fingers, knees, and shoulders. Joints hold bones in place and allow them to move freely within limits.
Most of the joints in our body are surrounded by a strong capsule. The capsule is filled with a thick fluid that helps to lubricate the joint. These capsules hold our bones in place. They do this with the help of ligaments. These are a bit like very strong elastic bands.
The ends of the bones within a joint are lined with cartilage. This is a smooth but tough layer of tissue that allows bones to glide over one another as you move.
If we want to move a bone, our brain gives a signal to the muscle, which then pulls a tendon, and this is attached to the bone. Muscles therefore have an important role in supporting a joint.